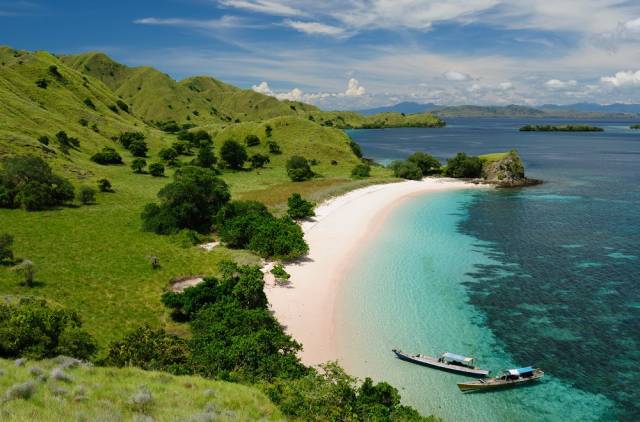 Welcome aboard on to Cakrawala Biru (CB)
– Our floating Hostel in Komodo –
Komodo is part of the Lesser Sunda chain of islands and forms part of the Komodo National Park. It lies between the substantially larger neighboring islands Sumbawa to the west and Flores to the east.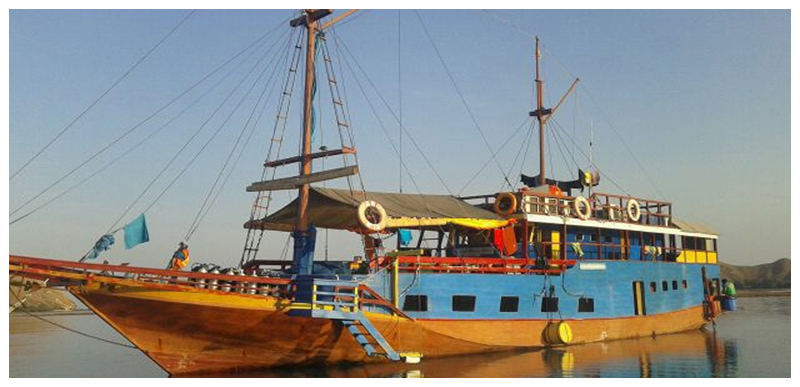 This is the most affordable Komodo diving option available! A bold statement? It's true. This is the ideal choice for a lower budget, short trip that includes many of the dive sites of Komodo. If you have a short time but want to see as much as possible or you simply aren't sure if you will like the diving around the park! With trips as short as 2 days/1 nights – there's a great variety of diving in a short period.
Our hop-on/hop-off Komodo diving hostel isn't for everyone! Due to the constraints of schedule and distance – we can only visit the central areas of the park. The more exotic corners of the park are simply not part of our schedule. For the same reasons there aren't as many dive sites to choose from. The option for dragon walks is not possible on this trip – we can arrange them, but it's simply not part of this trip. But you won't care! You want to dive Komodo for at the best price and most fun possible! And this means departures -EVERYDAY! (for all the best dive sites – consider our full-service Komodo Liveaboard)
This trip can also be a cheaper option if you have a non diving-partner joining you as the discounts for non divers/snorkellers are better than on other boats. Our Komodo Diving platform is efficiently run with a young and enthusiastic crew. The food on board, served buffet style, is very tasty and there's lots of it



All trips start early – we depart from the pier at 7:30am. You will then be transferred to the platform via a quick dash into Komodo Park. On your final day you will make 3 dives in Komodo, and expect to be back in Labuan Bajo by 5:30pm.
How can we offer so much flexibility and low prices to our guests? The Komodo Diving Platform stays in the park permanently instead of coming and going every few days. We don't visit as many dive sites as the other trips we offer. We skip the dragon walks on these trips. This means we save on fuel and time – making this the most affordable Komodo Diving option!
There are no fixed schedules – so you can stay for a day or stay for a week! If we have the space, you can stay on for extra days (or weeks!).
Typical Itinerary:
1st Day – Depart from Pier around 7:30. Transfer to Komodo Park where we join the Komodo Diving hostel. Maximum 3 dives on the first day. Lunch and Dinner served on the boat.
Non-transfer days – 3 dives per day with optional 4th dive for a surcharge (condition dependent). Sleep, east, dive, repeat!
Final day – Maximum 3 dives and transfer to Labuan Bajo.
If you stay only 2 days/1 night, first day is transfer from Labuan Bajo, second day return to Labuan Bajo.
Exact dive sites are decided en route based on currents, weather, customer choice, big fish sightings etc…
| | |
| --- | --- |
| 2 Days /1 Night | $285 US |
| Additional day | $125 US |
| Night Dives are optional – includes torch rental | $25 US |
Included is:

Transport to the pier and back
Full room and board on trip
Tea, coffee, water and electrolytes
Tanks and weights
Dive guides
Lots and lots of delicious food
Good times, great memories and lots of fun on the Komodo Liveaboards

The trip price does not include:

Flights – domestic or international
Use of dive equipment (this can be rented per day and include a dive computer)
Soft drinks and beers
Park Fees
Bad attitude