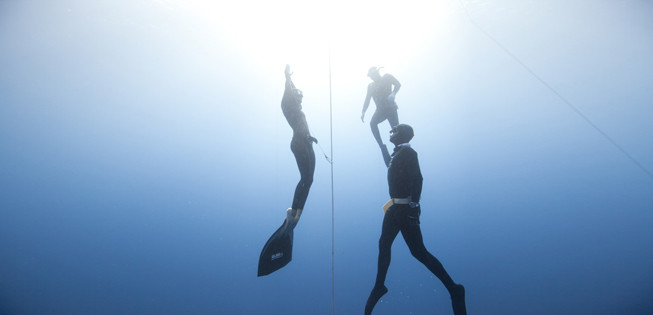 1. Snorkeling
Dynamic coral reefs and vibrant marine life just spitting distance off the main island beaches is what attracted travelers to the Gilis in the 80s. Long before the siren call of beach parties and fabulous resorts beckoned today's crowds.
You can either rent snorkeling equipment from the numerous kiosks around the jetty on Gili Trawangan, or from your beach resort for about US$3 per day. Gift shops on the islands sell spanking new snorkeling sets – a great buy if you're dubious about where the rental sets have been.
2. Encounter sea turtles
snorkeling with turtles gili trawangan
Seeing these creatures up close and in their natural habitat is a truly special experience.
On Gili Trawangan and Gili Meno you'll find turtle sanctuaries and private hatcheries. This is where children can get up close with cute baby turtles and learn about marine life conservation.
Spotting turtles while snorkeling just off the shore is more common in Gili Meno than the other Gili's. However, the best way to guarantee a sighting is on a snorkeling trip. The local boatmen know all the best spots.
Snorkeling trips cost around US$10-20 per person for a 2-3 hour trip, and children are usually charged half price. If you have a group of more than three or four people, then it's worth striking a deal with the boatman. They drive a hard bargain, so shop around and negotiate a fair price (US$50 for the day is about right).
The turtles are seasonal, so the best time to see large groups of them is between June and November. You'll still be able to spot them year-round, you'll just have to look harder.
3. Sea kayak around the island
Paddle around the island and get a different view of the Gili's. (Photo by Karma Kayak, Gili Trawangan)
You might be tempted to swim around the island, or between the Gili's. They look so close, but the currents between the islands are strong, so please don't. Paddle around the island instead with a professional guide.
Karma Kayak on Gili Trawangan offers guided kayaking day trips for just under US$30. On a good day, you might paddle next to groups of sea turtles and mantas.
4. Take a ride on a glass bottom boat
There are numerous glass bottom boat operators on Gili Trawangan, charging US$10-15 per person for dry joy rides around the island's best coral reefs. Or you can hire them for snorkeling trips around the three Gili islands. Glass bottom boats are also the unofficial private transfers between the Gili islands. Shop around for the best price and negotiate a good rate, especially if you're booking the boat for the full day.
5. Cidomo
The local horse carts in the Gili's attract a little bit of controversy. You won't see water troughs along the main path on the islands, and the cost of the short rides are getting rather extortionate (US$7-10 to your resort or US$12 to go around the island). If your hotel is a fair walk from the jetty and you're not traveling light, you'll probably need to use one.
Animal lovers can get involved with the movement for horse's wellbeing by getting in touch with the Gili Eco Trust.
6. Horse riding
Explore the island on horse back.
There are two stud stables on Gili Trawangan, past the sunset bars on the south side of the island.
Prices start at US$25 for a 30-minute ride through the village and forest. Safety could be an issue, so it's not advisable for first-time riders.
7. Get pampered
In the Gili's, you have the option of going to a hotel or boutique spa, or getting a gloriously soothing Balinese massage right on the beach (US$12-15). The local massage ladies use a beautifully fragrant homemade coconut oil.
(Quick beauty tip: If your skin is looking clogged from sun cream and sweat, be sure to rinse the oil off after your massage to prevent breakouts.)
8. Fishy pedicure
On Gili Trawangan, you'll find two spas that offer fish therapy. The Garra Rufa fish nibble away on the dead skin around your heels and toes. It's tickles less than you think, and it's a fun thing for the kids to try.
9. Hair cream bath
If you've ever wondered how Indonesian ladies keep their hair looking ultra smooth and lustrous, then you must try a hair cream bath. Especially after drying your tresses out in the sun. The spas on Gili Trawangan charge US$12-15 for the treatment.
10. Eat local
Gili Trawangan Art Market is open every night from 7pm.
In the afternoons, you'll see local ladies selling packets of rice and fish or chicken along the beach for US$1, and sweet baby pineapples and spicy grilled corn for US$0.50. It's a great beach snack, but if you want to sample a wider array of local flavors, look for small local warungs or check out the art market on Gili Trawangan where you'll find a colorful array of stalls selling fresh grilled seafood, local curries and cakes.
11. Shop
A collection of small boutiques and gift stores on Gili Trawangan sell beautiful dresses, interesting keepsakes and quality jewellery.
Gili Meno and Gili Air have small gift shops and local shops where you'll find basic necessities. Sarongs and bracelets are an easy buy, hawkers do the round of the islands daily.
On the other hand, shopping in Gili Trawangan today is surprisingly good. Don't be daunted by the modern look of the store front, there's always something on sale within.
12. Learn to cook Sasak style
Bring home the flavours of Indonesia with Sweet & Spicy cooking school and Gili Cooking Classes on Gili Trawangan. Classes run throughout the day – the bigger the group, the lower the cost. You'll learn how to make three to five local dishes, including tasty satay peanut sauce and pepes curry. And lunch is on you, so make it good!
13. Kite surf
Calm waters and smooth breezes in the Gili's make it a great place to learn kite surfing.
Gili Air is the ultimate place to kite surf. The best winds are on the south east of the island, between Gili Air and Lombok. The views of Mount Rinjani and Lombok's lush forest peaks and valleys, are unbelievable.
Check out Gili Kitesurf on Gili Air, they're the go-to people for kitesurfing in the Gilis.
14. Scuba dive
Dive course gili trawangan
Learn to dive in Gili Trawangan and discover an entirely new world.
Dive sites are absolutely littered around the Gili's, and cater to all levels of divers. You'll encounter turtles, eels, reef sharks, mantas, stingrays and rare critters.
Blue Marlin is the most reputable diving operator, and they offer all courses for first-time divers. If getting your PADI is on your bucket list, this is the place to tick it off.
15. UV night dive
Diving with UV torches around the Meno Slope.
Witness the ocean floor in a whole new light, literally. Diving with UV torches is the latest trend in night diving that offers a totally unique diving experience for those who have already done the night dive.
The psychedelic underwater adventure is only available to Advanced Open Water divers. Find out more on the Lutwala Dive website.
16. Hold your breath
freedive-gili-trawangan
Free dive to depths of up to 20 meters as a beginner.
Does the idea of relying on an air tank and bulky equipment freak you out? Then do away with the tank and train your lungs to take you deeper underwater and for longer than you imagined possible.
Freediving is the new frontier in underwater exploration. Dive freely, and gracefully without all the clumsy equipment, and get more intimate with the ocean floor. Beginner two-day courses are run on Gili Trawangan.
17. Take a walk, on the ocean floor
Explore the bottom of the ocean in Gili Trawangan, even if you don't dive. You get about 20 minutes of ocean floor time (and a free under water photo for the holiday album). The activity also includes replanting coral as part of their conservation program. Marine Walk (US$55 per person, currently on promotion for US$35) is located just before Blue Marlin Dive on Gili Trawangan.
#18 Hop between the Gili's
The public boats between the Gili's, used by the locals who work on the islands, operate twice a day. Tickets cost less than US$3 each way, and brings you closer to real island life. Not a bad way to commute.
19. Aqua flights
Experience a completely new water sport that is taking the world by storm.
The South Sea Nomads are always looking for ways to take water sports to the next level. Now, you can soar out of the water and spin in the air like a dolphin with this brand new watersport.
Find out more about aqua flights in Gili Trawangan here.
20. Sunset bar crawl
Sunset beats at The Exile, Gili Trawangan.
Watch the sunset with a mind empty of worry and a full cocktail glass. Sunset bars with the best views of the horizon are dotted along the south west side of the islands.
And when the day gives way to night, the bonfires are lit. A romantic precursor to dinner, or a great way to get into the party spirit.
Related article: Top 5 sunset bars in Gili Meno
21. Party on a boat
It's all about having fun in the sun on board the Drunken Monkeyz yacht party.
If you're not on the party boat, then you'll certainly hear it from the mainland.
South Sea Nomads and Drunken Monkeyz throw the best boat parties, with guest DJ's and after parties on the island. It's a great way to make new friends and have a blast.
22. Go fish
Fishing charters in the Gili's will take you out to the Lombok Strait where you can catch Barracudas, Giant Trevally, Grouper, Mackerel, Marlin and Tuna. The pricier charters provide better quality fishing rods and faster boats. If you're just taking the kids out for a fun day of fishing, go out with a local fisherman and catch your lunch with a hand line.
23. Surf
The Play Gili secret surf spot  is a barreling right hander off the south coast of Gili Air and also Gili Trawangan.
There are two surf spots in the Gili's. One in Gili Trawangan on the south east corner about 300 meters off the shore, and a lesser known surf break in Gili Air known as Play Gili.
Catching a swell takes some patience, and watch out for strong currents and the shallow reef.
24. Walk around the islands
Take a break at sunset point, Gili Trawangan.
It takes about two hours to walk around Gili Trawangan, an hour and a half for Gili Meno, and just under two hours to walk around Gili Air. That's if you don't stop along the way at a beach bar or explore the side streets. The islands are too small to get lost, so explore away.
If you're an avid runner then you'll love running around the islands. The air is fresh, and there aren't any motorised vehicles about. Plus, the paths are often covered with sand. For this reason, cycling on the sandy paths are more of a pain than pleasure – you'll be pushing the bike over long stretches of sandy paths very, very often. We recommend skipping the bicycle hire and walking instead.