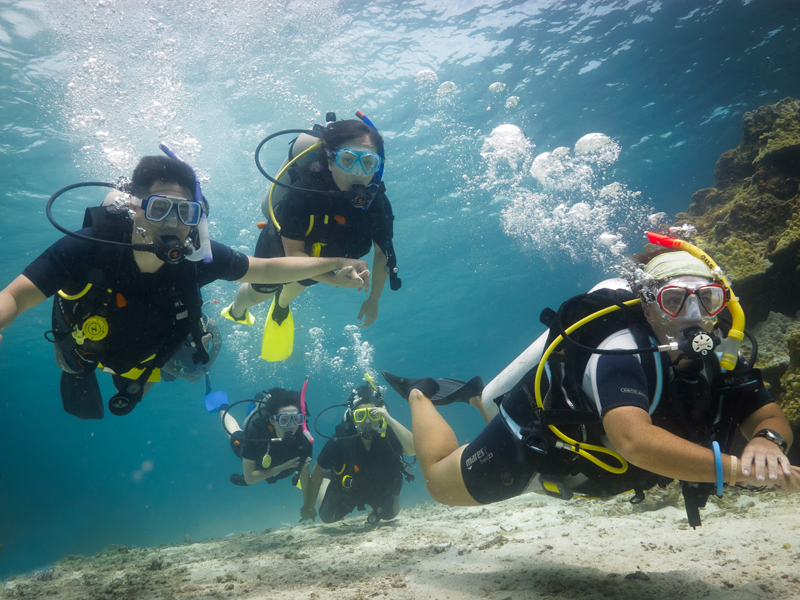 Become an Open Water Diver!
Open Water Course – 3 days/4 dives
The Open Water Course is the most popular Beginner level scuba diving course. The course teaches you everything you need to know about diving safely, the equipment you need for diving, dive planning and how to have an unlimited amount of EXCITEMENT and FUN!!
The course opens the way for you to discover the underwater environment and can lead you into a whole new world of adventure and maybe even into a new way of living your life – we all started with the Open Water Course!!
The minimum age to begin the Open Water Course is 10 years old.
The course takes 3 or 4 days to complete, plus some self-study.
Upon completion of the course you will receive a certification to dive anywhere in the world with a Certified buddy, to a recommended depth no deeper than 18m.
There are 4 Open Water Dives required for certification.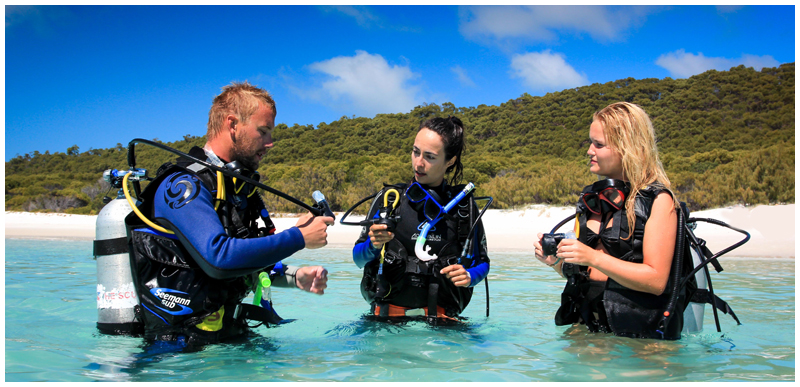 OPEN WATER COURSE

The Open Water Course is the first step of the ladder to a whole world of possibilities, including the Adventure Diver and Advanced Open Water Course.
Day 1 – Completing the first three modules of theory by watching the Open Water movie. Then learning the skills in the confined water dives  swimming pool.
Day 2 – Your Instructor will go through the equipment assembly with you before we go for our first dive. The first dive is a nice relaxing dive to a maximum depth of 12m to get you used to being underwater and using the equipment.
During the 2nd dive of the day you will repeat some of the skills you practised in the swimming pool, which you are required to perform for certification.
Day 3 – Complete your two remaining open water dives. Again you will repeat more of the skills you learned in the pool, but this time you will dive to a maximum depth of 18m. Which dive sites we choose for the second day depends on how comfortable you are and what the conditions are like at that particular time.
Once we are back on in the shop you will complete the paperwork, fill in your logbook and receive your certification card.